We are implementing on-the-ground solutions—using telehealth, new technologies, and a broad and diverse team of community providers—to bring dental care to children where they are, such as in schools, Head Start sites, and even at home. Working with our community partners, we educate families about their children's dental benefits and how to get care.
We are raising awareness of the importance of good oral health and early preventive dental care for children, by working with local and state coalitions and partners to identify and promote policy solutions with decision-makers.
An Emphasis on Essential Needs
Dental care is an essential part of growing up healthy. Early preventive dental care results in better oral health, overall health, and improved well-being. Despite being a preventable disease, tooth decay is the most common childhood illness and can lead to serious and costly oral health problems in adulthood. The destructive impact of poor oral health is evident in underserved communities, where children have far more untreated tooth decay than children in more affluent neighborhoods. Poor oral health can lead to pain and suffering, disrupt overall health and development, and result in missed school days and poor academic achievement.
-
Identifying Key Obstacles
BRIGHT SMILE FOR A BRIGHT FUTURE: ORAL HEALTH FOR CALIFORNIA'S CHILDREN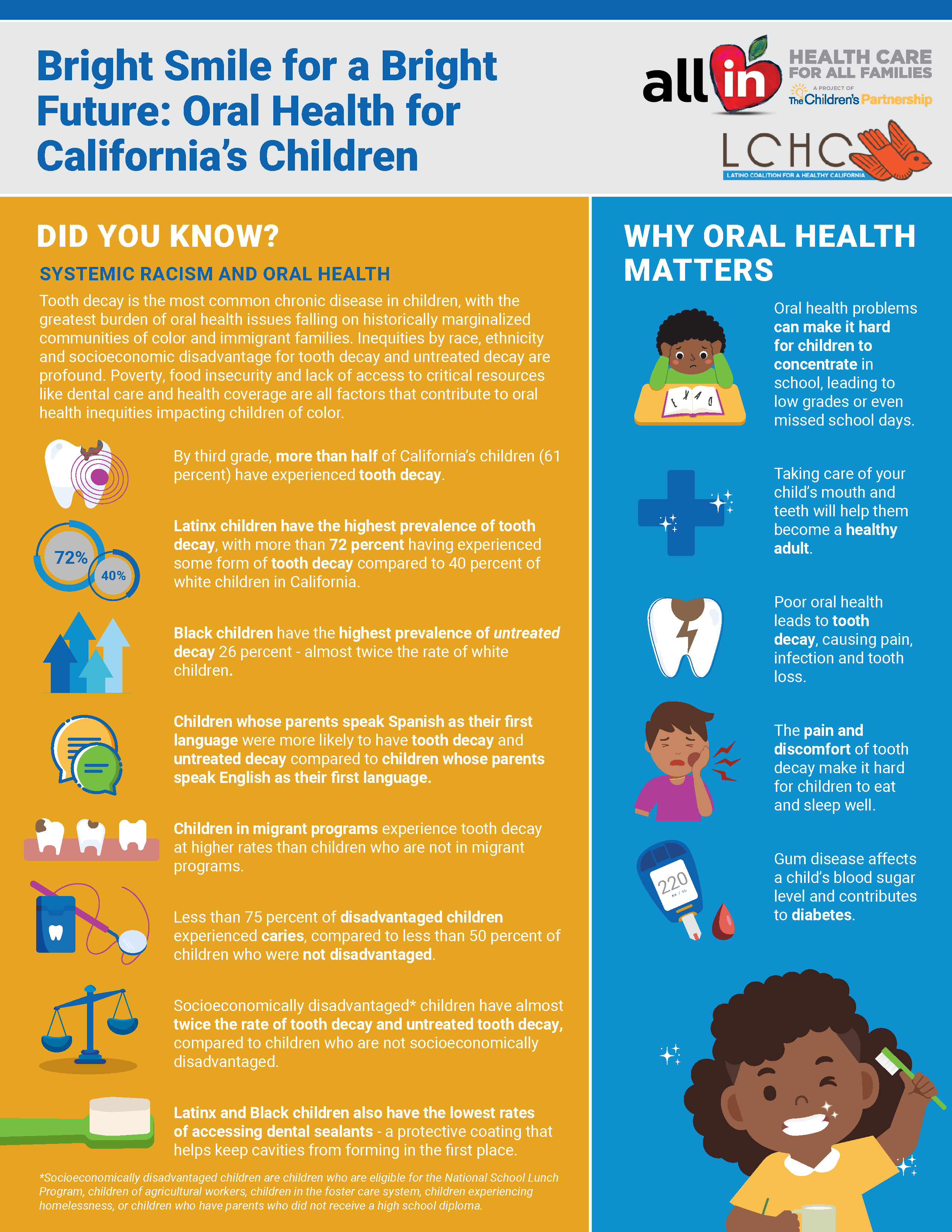 Tooth decay is the most common chronic disease in children, with the greatest burden of oral health issues falling on historically marginalized communities of color and immigrant families.
We partnered with the Latino Coalition for a Healthy California to create a two-page fact sheet that includes information to parents and families on why protecting the oral health of their children is important for their well-being and their future. We also share critical resources around accessing dental coverage through Medi-Cal and Covered California. Our fact sheet gives parents quick and easy tools to prevent tooth decay in their kids. Click below to access the fact sheet in either English or Spanish.
Help us uplift the content of this fact sheet to reach more parents and families by using our social media toolkit! Click here to access the toolkit.
RACIAL JUSTICE IN CHILDREN'S ORAL HEALTH



ALL IN FOR HEALTH: GET CARE FLYER

Now that more families than ever have health coverage, help educate them about the importance of getting routine preventive care. Available in both English and Spanish. A customizable Get Care Flyer is available to add in local information.