For Our Children's Future: 30th Anniversary Speaker Series
The Children's Partnership (TCP) is proud to celebrate thirty years as a premier non-profit policy organization dedicated to moving the needle forward for the health and well-being of all children. Starting in October 2023, TCP will honor its 30th anniversary with our "For Our Children's Future: 30th Anniversary Speaker Series." We will honor our belief that California is stronger in its commitment to children because of work we have accomplished together over the last 30 years. At the same time, as our state and nation continue to be at a critical juncture in their commitment to children, we look forward to recommitting ourselves to the work needed to ensure the healthy development of all children as we look to the next 30 years and beyond.
On October 10, 2023, we will kick off this series at The Top of the Hub in Downtown Los Angeles with Edgar Villanueva, acclaimed activist and author of Decolonizing Wealth. In a fireside chat, Mr. Villanueva and TCP President Mayra E Alvarez what it means to decolonize health, and how the power of culture and connection helps support the well-being of California's children. A reception will follow.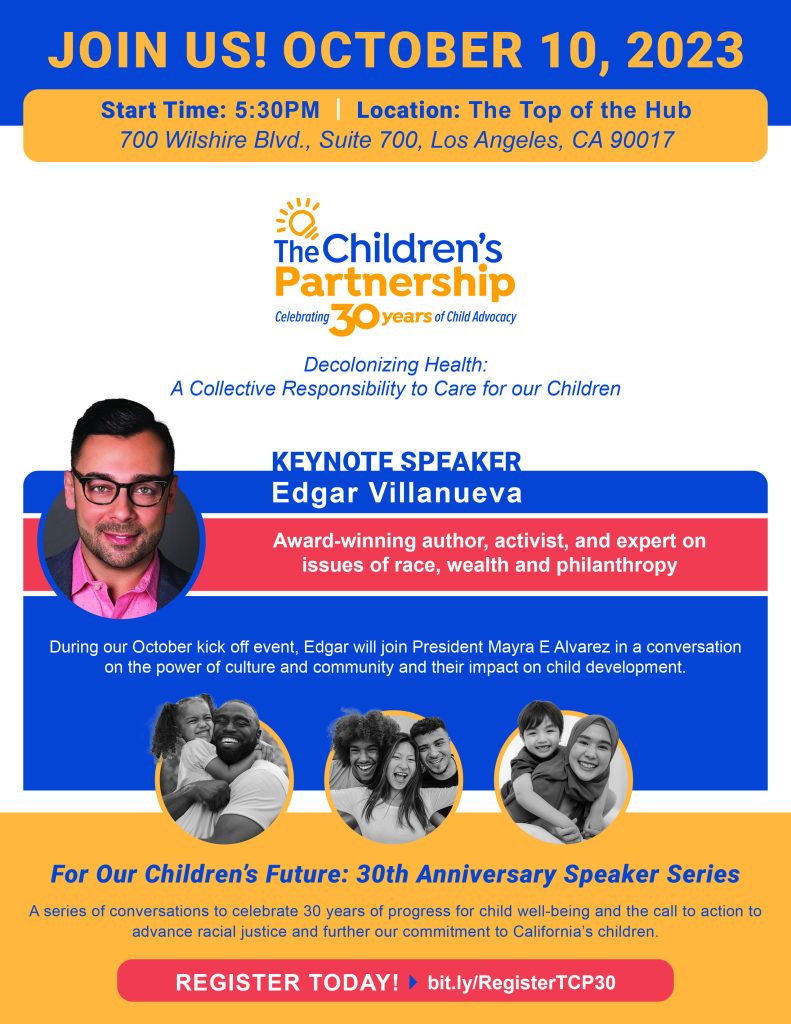 If you have any questions about tickets or sponsorship, please reach out to Laura Murray, TCP's Development Manager, at lmurray@childrenspartnership.org or (213) 315-0957.
COVID-19 Protocol: As the COVID-19 pandemic continues with a recent spike in cases, we are taking measures to keep our community safe and healthy. Our venue features a spacious rooftop patio where we can enjoy food and beverages in open air with views of DTLA. We will have masks available and encourage guests to wear masks indoors during the program. We also ask guests to take rapid tests the morning before the event, and will have rapid tests available at the venue. We encourage all persons to monitor their own health and stay home if sick or experiencing symptoms. Thank you for your support and understanding!