EQUITY THROUGH ENGAGEMENT
Advancing child health equity is about more than reducing health disparities. Equitable health care includes sharing power with and honoring the agency of those who are the real experts, namely families who know their children and their environment best, and the community which knows best their population needs and resources.
The Children's Partnership, the California Children's Trust, and the Georgetown Center on Poverty and Inequality have partnered together through a grant from the Robert Wood Johnson Foundation on the Equity Through Engagement (ETE) Project. As part of the ETE project, we examined challenges and opportunities for California to integrate community organizations, local cross-sector collaboratives and community social interventions into its Medi-Cal health care financing and delivery systems in order to advance child health equity.
Because three-fourths of Medi-Cal children are children of color, Medi-Cal plays a critical role in addressing child health inequities and preventing children from developing diseases later as adults. Addressing social drivers of health offers a unique opportunity to advance equity but only when we center the needs of those most impacted.
This project highlights the role that social drivers play in shaping a child's health and well-being and thus the key role that Medi-Cal can play to address those health-related social needs for children. Recent reforms to Medi-Cal managed care offer promise for better serving the whole child's health. Pivotal to Medi-Cal successfully advancing its goal of child health equity is authentic collaboration and power-sharing between managed care organizations and key community partners:
Community collaboratives for health working cross-sector;
Community-based organizations (CBOs) serving children/families; and
Families and youth themselves
EQUITY THROUGH ENGAGEMENT PROJECT PRODUCTS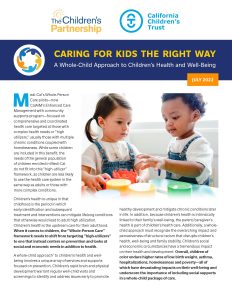 CARING FOR KIDS THE RIGHT WAY: A WHOLE-CHILD APPROACH TO CHILDREN'S HEALTH AND WELL-BEING
This brief describes what a whole-child health approach entails–what are the preventive services, treatments, social supports and interventions children need to thrive and the child settings where children receive them. Families needs care coordination to navigate and connect this network of interventions, services and providers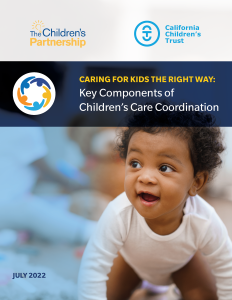 CARING FOR KIDS THE RIGHT WAY: KEY COMPONENTS OF CHILDREN'S CARE COORDINATION
Navigating the right support among the fragmented systems of children's medical care is difficult, and successful care coordination for children requires effective communication among providers, patients and families across the multiple systems that serve children.
This report presents successful children's care coordination models and examples of care coordination in action that are necessary to achieve the state's ambitious goal of reforming the nation's largest Medicaid program and address managed care plans' well-documented challenges in offering preventive care and addressing social drivers of health.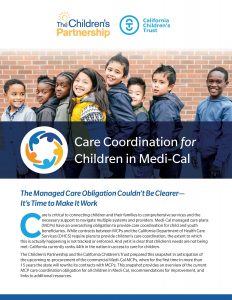 THE MEDI-CAL MANAGED CARE OBLIGATION FOR CARE COORDINATION COULDN'T BE CLEARER— IT'S TIME TO MAKE IT WORK!
This brief provides recommendations for care coordination improvement in Medi-Cal, including suggestions on strengthening MCP contract language and accountability to ensure California's most vulnerable children are supported in navigating complex systems and multiple providers to receive the mental and behavioral health services they need.