This month, Governor Gavin Newsom released a pragmatic May Budget Revision that prioritizes children's health, protects progress and leaves the door open to expand California's health equity work.
Thank you to our partners End Child Poverty CA and Western Center on Law & Poverty who joined our Managing Policy Director Gabriella Barbosa for the May Revise live chat.
---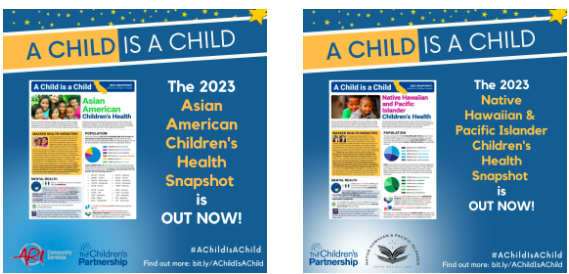 Asian American & Pacific Islander Heritage Month
We partnered with Asian Resources, Inc. and the Native Hawaiian and Pacific Islander Data Policy Lab at UCLA Center for Health Policy Research to release two data snapshots.

Take action by sharing our posts for the Asian American Children's Health Snapshot and the Native Hawaiian & Pacific Islander Health Snapshot resources on Twitter.
Download the snapshots here:
These snapshots celebrate the 1.5 million Asian American (AA) children and 90,000 Native Hawaiian and Pacific Islander (NHPI) children in California. They also highlight the unique challenges AA and NHPI communities face. The statistics can be upsetting to read. However, we can lean into the protective factors that strengthen our AA and NHPI children and families. These data can be used as a roadmap to support the lifelong success of AA and NHPI children.

Access our full social media toolkits here:
Asian American Health Snapshot Toolkit
Native Hawaiian Health Snapshot Tookit
---

Youth Mental Health and AB 665
Check out our youth mental health Instagram Live focused on sponsored bill AB 665 (Carrillo). Our youth partner Fiona Lu of Generation Up led the livestream with special guests Esther Lau, bill author Assemblymember Wendy Carrillo, and our policy director Angela Vazquez.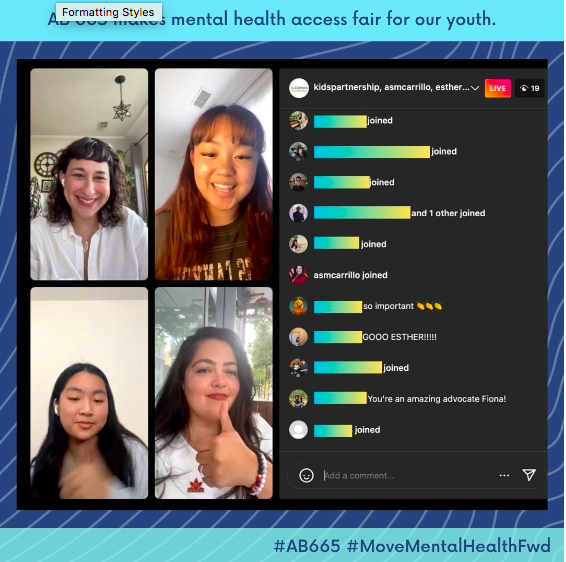 ---
Staff Advocacy

Our staff have been all over the state the past two months working for whole child health equity!

TCP President Mayra E. Alvarez spoke on the importance for all California children to have reliable health care at the End Child Poverty California IMAGINE Forward Together Rally.
TCP President Mayra E. Alvarez spoke on the importance for all California children to have reliable health care at the End Child Poverty California IMAGINE Forward Together Rally.
Maddie Ribble, our policy director of social determinants of health, advocated for digital equity at the Los Angeles Board of Supervisors and LA City Council with the LA Digital Equity Coalition.
Maddie also fought for housing justice at the Housing is a Human Right Rally& Lobby Day in Sacramento with Housing Now.
---

June 6 Webinar: Leveraging Digital Health to Drive Equity and Integration in Primary Care
Our Managing Director of Policy Gabriella Barbosa will join Blue Shield of California Industry Initiatives from on June 6 at 11 a.m. for a free webinar Leveraging Digital Health to Drive Equity and Integration in Primary Care.
The panelists are leaders of health technology, provider, payer, and advocacy organizations and will discuss opportunities to advance integrated, equitable primary care through digital solutions.
---
June 8 Webinar: Digital Equity is Health Equity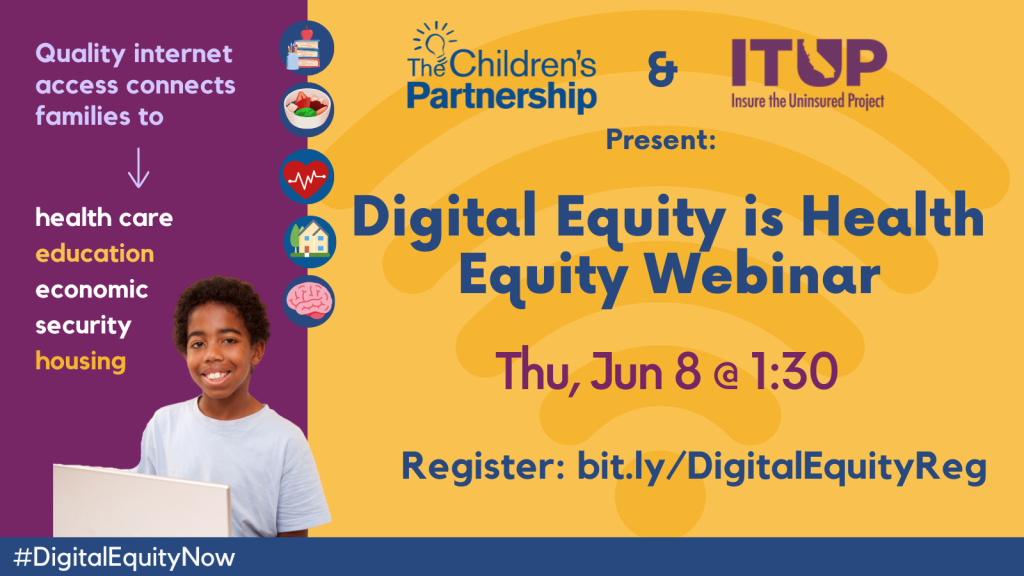 On May 31, TCP will be releasing our newest brief and a policy call to action on the connections between digital equity, children's health and racial justice.On June 8, we are teaming up with our partners at Insure the Uninsured Project (ITUP) to host a webinar Digital Equity is Health Equity: Opportunities to Drive Change for Healthy.
---
TCP and NHeLP Launch a California Feedback Loop on Medi-Cal Unwinding & Renewals
Do you work with California communities on Medi-Cal? Do you assist individuals and families with Medi-Cal enrollment and renewals? We are here for you and want to hear from you!
As Medi-Cal renewals resume, The Children's Partnership & the National Health Law Program (NHeLP) are hosting a feedback loop to identify and help address issues and concerns with the renewal process. Together, we will:

If you are a community-based organization, health care navigator, enrollment assister, community health worker/promotora, provider or other advocate on the ground, please join us on June 21 at 12 p.m.
---
Monthly Medi-Cal Tip: Renewals for Recently Pregnant People
As Medi-Cal coverage renewals start back up after a three year hold, those who were pregnant in the last year need to know that they may still qualify for coverage and how to keep their coverage.
ACTION: Medi-Cal members who are pregnant now, or were pregnant within the past year, will need to let their county know.
People who were pregnant can continue to qualify for Medi-Cal for 12 month post-pregnancy — regardless of immigration status or the outcome of that pregnancy (childbirth, stillbirth, miscarriage or abortion)
Unfortunately, the Medi-Cal renewal form only asks whether you are pregnant now
For some people, post-pregnancy eligibility is the only way to qualify to keep their Medi-Cal coverage
Please let families, and organizations that work with families, know about this important renewal tip.
For more information check out the Maternal and Children Health Access Fact Sheet.
---
---
ICYMI: TCP President's Reflections on Mother's Day and the Challenges Children Are Facing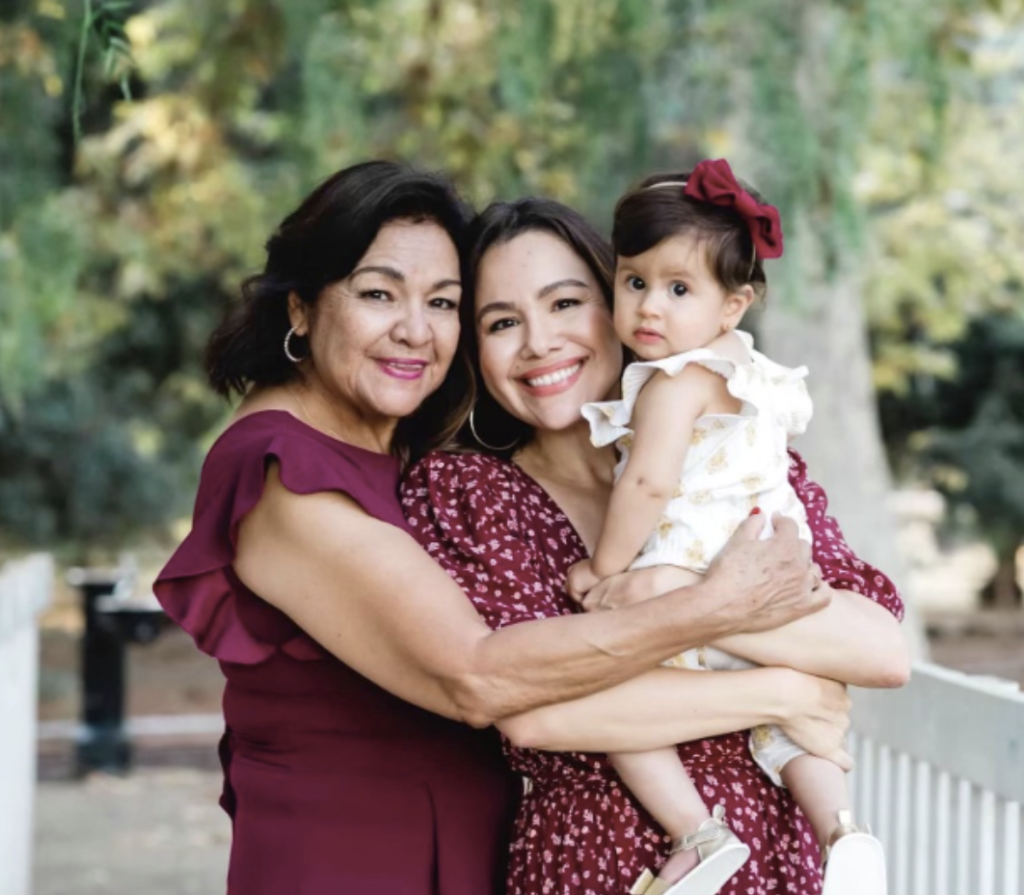 Our children are growing up in a world where gun violence is a constant threat. It is a devastating fact that any school day could lead to a deadly shooting. By refusing to take common-sense measures, politicians deny our children the sense of safety they need to grow up healthy and thrive. The United States has had more than 200 mass shootings this year, making gun control one of the biggest challenges our children must face.
Our President Mayra E. Alvarez's Mother's Day blog confronts this and other key obstacles to child health equity.