KEEP KIDS COVERED
Now is the time for millions in California to RENEW their Medi-Cal coverage!
As the unwinding of public health protections continues, Medi-Cal released its first data on disenrollments from the month of June: over 225,000 Californians, including 65,000 children have lost their Medi-Cal coverage. TCP remains deeply concerned that California children and families are losing coverage and the vast majority (89%) of those disenrollments were due to "procedural" reasons – such as lost contact or not connecting with the family to complete renewals – and not because they were found ineligible.
National data estimates that most children (75%) of those disenrolled for procedural reasons remain in fact eligible. Medi-Cal's procedural disenrollment rate is far higher than the national average which means too many kids are likely losing coverage unnecessarily.  Read on to help #KeepKidsCovered! 
---
COMMUNITY OUTREACH TOOLKIT FOR KIDS AND THEIR FAMILIES
The Children's Partnership and our ALL IN partners are proud to announce the release of the ALL IN to #KeepKidsCovered Community Outreach Toolkit. This toolkit is created for schools, childcare providers, and other child and family champions to help share information about the Medi-Cal renewal process with families.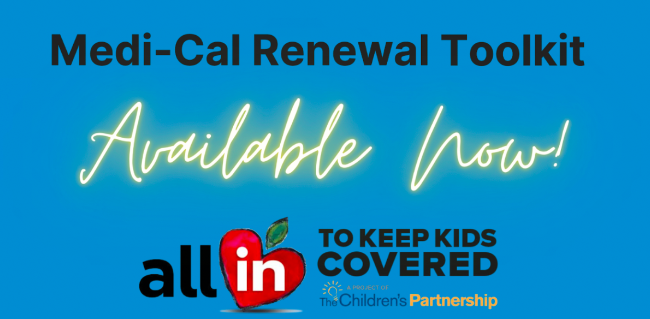 There are many ways that you can help share this information with families, like during after-school school meetings and open-houses, posting on social media, sending out newsletters, sharing fliers, and including banners and hashtags in your communications channels.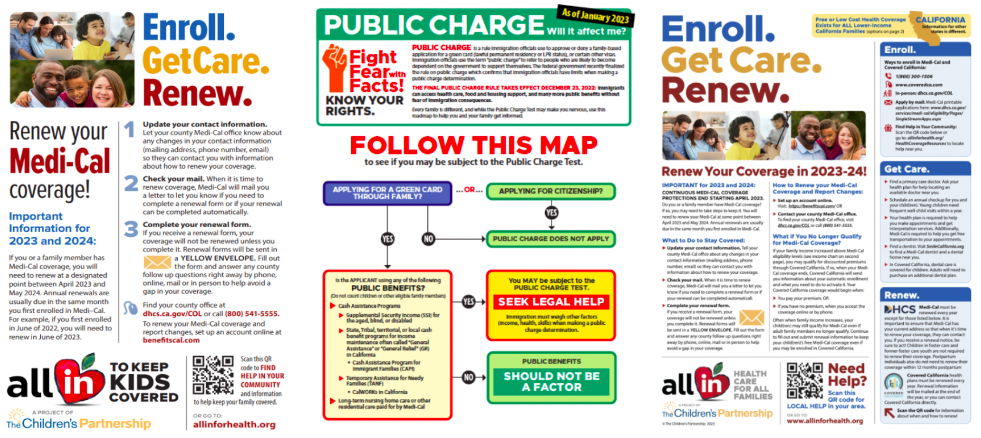 ---
OUTREACH VIDEOS FEATURING COMMUNITY HEALTH WORKERS!
In partnership with community health workers, we developed a set of five short outreach videos that inform families it's almost time to renew their Medi-Cal and tell families about available resources to help them through the process. These videos feature community health workers who serve diverse communities across California speaking to families in their native language – English, Spanish, Punjabi, Tagalog, and Chinese. 
These videos are available for you to download and share on social media, link to newsletters, or share on your website!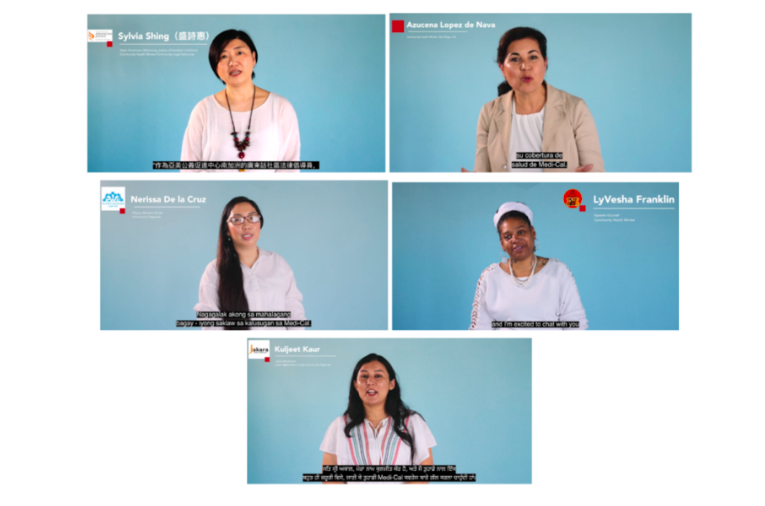 Let's do our part to spread the word, let's be ALL IN to Keep Kids Covered!
---
Medi-Cal Renewal Feedback Loop Meeting September 20th at Noon
TCP and NHELP have created a feedback loop for those local organizations and navigators helping families to renew. We provide updates and lift up issues raised by organizations as they share their experience with how the process is going on the ground for families.
Register at: bit.ly/RenewalFeedbackLoop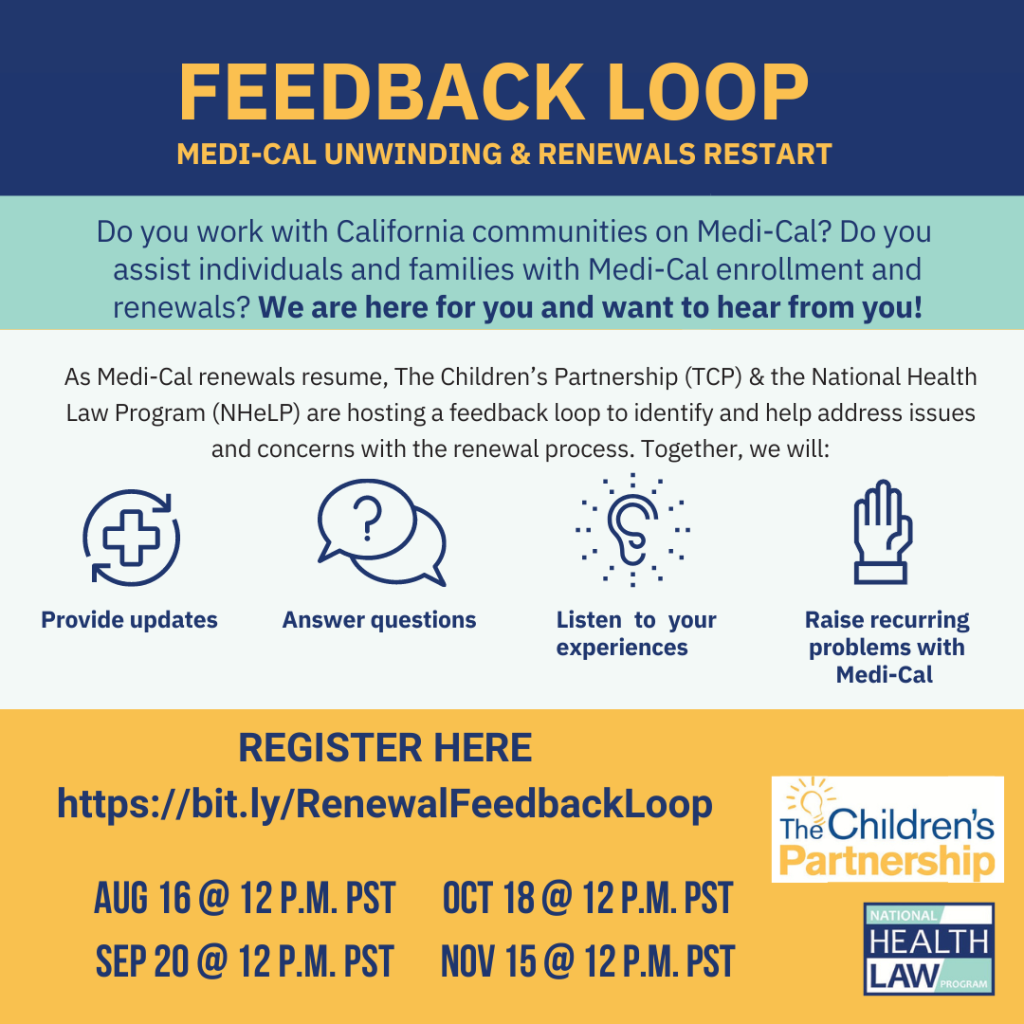 Please share this monthly feedback loop opportunity with your partners and join us for next month's meeting on September 20 at noon.
---
Key Kids Amendments to Governor's Proposal to Modernize the Mental Health Services Act
Earlier this year, Governor Newsom revealed his proposal to significantly redesign the Mental Health Services Act (MHSA), a millionaire's tax passed by voters in 2004 that generates over $3.5 billion annually for mental health services. Presently, current laws and regulations require counties to spend about 10% of their MHSA revenue on prevention and early intervention services for children and youth which amounts to ongoing investments of over $320 million annually across the state. The Governor's proposal includes significant changes to how counties would be expected to direct their MHSA resource across programs and target populations.
This week, in advance of an informational hearing on SB 326, the vehicle for the Governor's proposal, amendments were posted that preserve a clear set-aside of resources for children and youth within upstream Prevention and Early Intervention services.
As we evaluate the totality of the latest amendments, TCP wishes to thank the Governor, the Administration, and Senator Eggman for their engagement, and partnership to ensure these modernization efforts keep children and youth at the forefront of our state's priorities for addressing the ongoing mental health crisis.For more information:
Retweet to thank the Governor and Senator Eggman for prioritizing children and youth mental health!
---

National Language Access Brief Includes California Family Story 
As TCP highlighted in a policy brief we released last year–Telehealth and Children of Color with Special Healthcare Needs: Lessons from the Pandemic–health care systems consistently fail people whose primary language is a language other than English, frequently known as individuals with limited English proficiency (LEP), including families who have children with special health care needs. The lack of interpretation or translation often lead to communication breakdowns and a lack of understanding of a child's health care needs, evaluations, medication, and doctor recommendations; as well as the inability for a parent to communicate with their child's doctor about their child's health needs, resulting in a lack of care or unnecessary care.
As part of our advocacy to address these issues, we partnered with the National Immigration Law Center to center and uplift a story of a mother in California who has children with special health care needs that have been failed by the lack of interpretation and translation in California's health care system. The story was included in a brief that NILC recently authored–REDUCING BARRIERS, IMPROVING OUTCOMES: Using Federal Opportunities to Expand Health Care Access for Individuals with Limited English Proficiency. The brief includes policy solutions Congress and federal agencies can pursue to address health disparities caused by language barriers. By increasing access to and the quality of language services, and strengthening both provider and patient understanding of existing rights and tools, we can improve the health of millions of families in the U.S.
---

Back to School Webinar
SAVE THE DATE!
The Children's Partnership is excited to present our 2023 Let's Talk Webinar Series where we will bring together expert partners from across California to provide families with important information on pressing issues like Medi-Cal renewals, oral health, mental health, important benefits available to children and their families, and more!
Join us at our first Let's Talk Webinar on Wednesday, September. 13th from 5-6:30 p.m. for "Let's Talk: Back to School"
All webinars will be presented in English, with live Spanish translation available.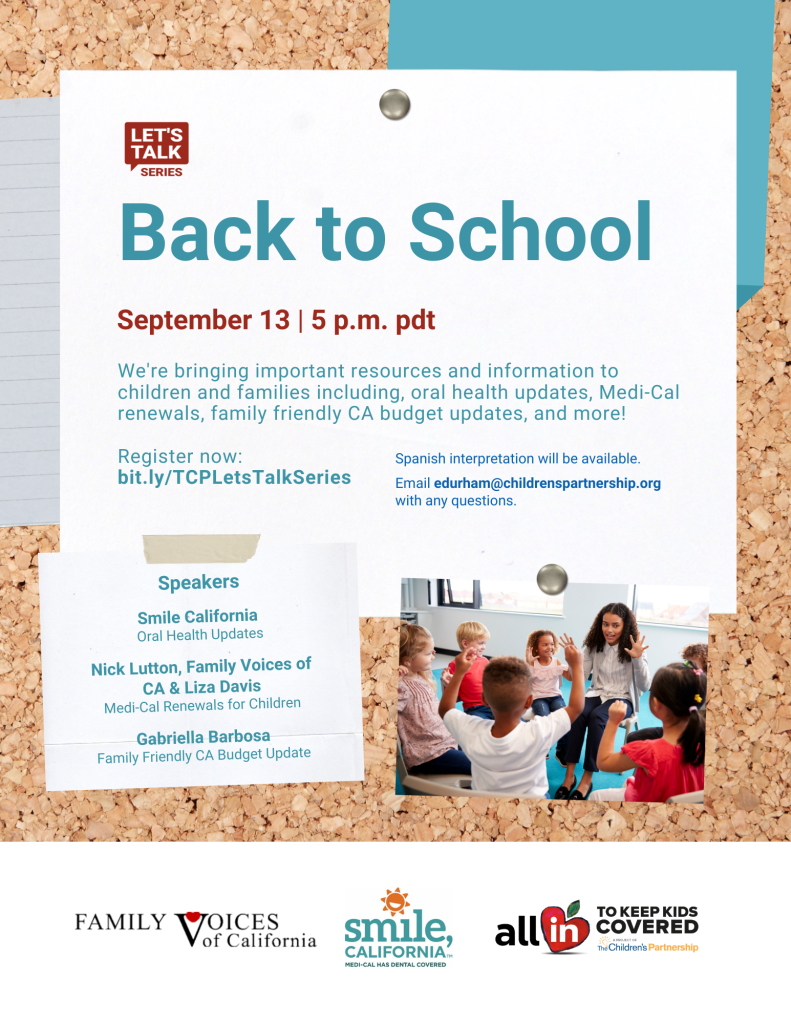 ---
Somos Latinx Families Series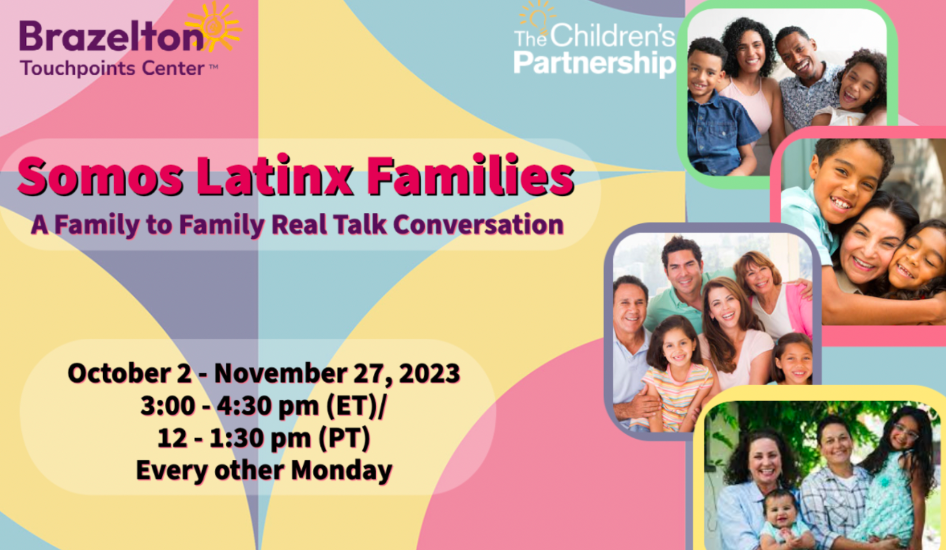 The Somos Latinx Families series is a free, 5-episode virtual conversation series that offers a safe and welcoming space to hold conversations for and by Latinx families. Explore what it means to be a parent as part of the Latinx community, raising Latinx children while navigating the U.S.

Join us and the Brazelton Touchpoints Center for this FREE webinar series beginning Monday October 2, 2023.
Register at: https://www.brazeltontouchpoints.org/family-talk/somos-latinx-families/
All webinars will be presented in English, with live Spanish translation available.
---
30th Anniversary Speaker Series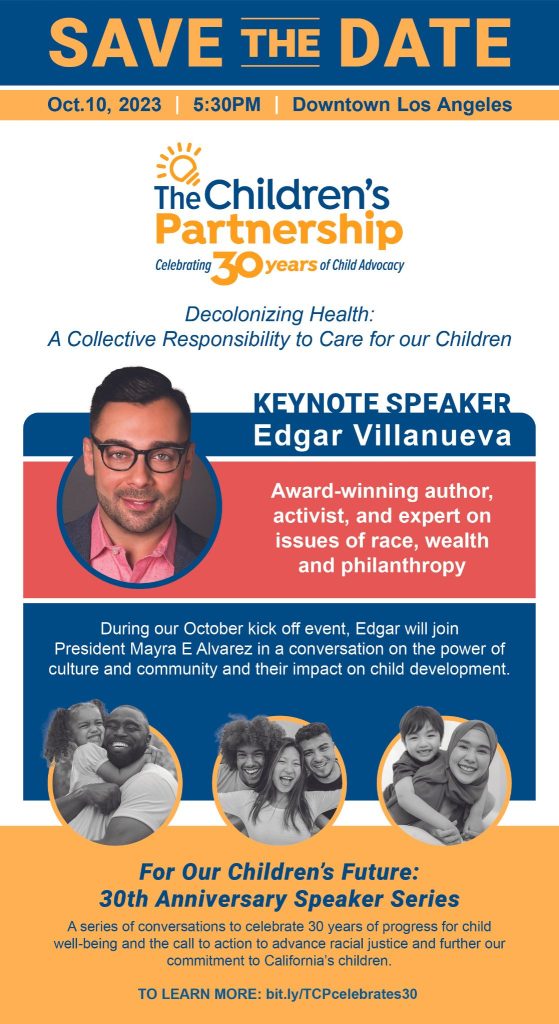 It's our 30th anniversary! We're proudly recognizing this milestone by hosting a community celebration and launching our new For Our Children's Future Speakers Series on Tuesday, Oct. 10, in DTLA.
Join us as we kickoff the series with award-winning author, activist, and expert on issues of race, wealth, and philanthropy Edgar Villanueva.
We hope you will join us!
Learn more at bit.ly/TCPcelebrates30
---