As the new President of a dynamic and innovative children's advocacy organization, I am constantly learning—from community members, partners in the field, policymakers, my staff, and many others.  At TCP, it is our organization-wide commitment to learning that informs our work to better meet our primary goals of ensuring all children have access to quality, affordable health care and reap the benefits of digital opportunities. To learn more about our work, I invite you to take a look at our recently released California and Federal Policy Agendas, where we as an organization have the chance to make good on our mission to improve the health and well-being of children in the Golden State and across the nation. These agendas reflect how what we are learning influences our work as we continue to evolve with the changing political and social landscape for children.
In 2016, we will build upon TCP's two-plus decades of work to continue securing key advances for children across the nation. I'm excited to work with our partners to ensure that all children have quality health coverage that meets their needs. This includes continued work in California to make certain that children's voices are heard as the implementation of the Affordable Care Act moves forward, as well as in the implementation of the recent extension of Medi-Cal to all-low income children, regardless of immigration status, and in the work of refining processes to make obtaining coverage as seamless as possible for every family that qualifies. Nationally, we will continue to advocate so that the crucial and bipartisan Children's Health Insurance Program's success in providing affordable, child-specific, and comprehensive coverage continues.
For this work and more, we recognize the importance of reaching families in their communities as key to a successful outreach effort to ensure newly eligible children and families enroll in health coverage and access preventive care. From community-based organizations to government agencies to private companies, we will continue to partner with diverse organizations to make sure families have the information they need to access health coverage and care. Our ALL IN For Health Campaign has already delivered 7.3 million messages to families encouraging them to enroll in affordable health coverage, thanks to the help of partners in the education community.  In the coming year, we will deliver even more messages with the help of our partners.
We will also continue promoting the smart use of technology to improve the quality of care received by our most vulnerable children and to empower families to take control of their children's health. And we will keep pushing to ensure that the 5.5 million California children enrolled in Medi-Cal receive the dental care they deserve—especially considering that dental care is the number one unmet chronic health care need for children.
When I took the helm of The Children's Partnership late last year, I brought with me my personal and professional mission of ensuring families are healthy and able to pursue their dreams. I am excited to learn from families in California about how our work moving forward can better meet their needs. These policy agendas reflect what our team has heard and represent our next step toward making that mission a reality. We hope you will take the time to read them and learn a bit more about TCP and our work this upcoming year.
Read our California and Federal Policy Agendas for 2016.
Healthy students make good learners. That's the logic behind The Children's Partnership's ALL IN For Health Campaign, an effort to equip educators with the tools they need to connect children and families to health coverage and care. We've heard the impact of health on kids' ability to learn from on-the-ground stories, including teachers who have seen students rack up absences and, as a result, fall behind in school. These are children who don't get the health care they need or whose toothache or poor vision prevent them from concentrating in class. Many of these children don't have health coverage and, thus, are not getting preventive or timely care when they have a health problem.
Health coverage and care are key elements to making sure that students are in class and ready to learn. Students with health coverage are more likely to graduate from high school, go on to college, and contribute more in tax revenue as adults. The understanding that health is a key component to school success is now fueling a new federal initiative. Late last week, the US Department of Education (ED) and the US Department of Health and Human Services (HHS) announced Healthy Students, Promising Futures. This campaign offers schools a number of high-impact opportunities to improve the health of their students, from connecting eligible students to health coverage opportunities to promoting healthy practices through physical and health education.
As a result of the Affordable Care Act, millions of children and adults now have health coverage. And now that students have that coverage, schools have the opportunity to move students up the wellness continuum, beyond the point of simply not being ill to being truly well. They can do this by connecting students to preventive care and educating them on healthy habits. ED and HHS recommend delivering health services to students directly in schools, providing support services and case management to at-risk students, and partnering with local hospitals and organizations. And, by promoting healthy habits such as eating well and engaging in physical activity, schools can encourage healthy habits that last a lifetime.
At The Children's Partnership, we share the Administration's commitment and have acted on it through our ALL IN For Health Campaign. To reach as many families as possible, we've enlisted the leadership of the California State Superintendent of Public Instruction, Tom Torlakson, and partners like California School Boards Association, California Parent Teacher Association, and California Head Start Association, among many others, to help connect schools and early learning sites across California to the information and materials they need to help families understand their coverage options and help them enroll. As a result, we've been able to deliver over 7.3 million messages informing families about their health coverage options and how to enroll and connect to care.
We applaud the Obama Administration for highlighting and supporting this high-yield connection between health and education and look forward to seeing what can happen when more schools and members of the health care community partner to help every student in the country thrive.
If you're a school or early learning center in California, use our toolkit to help eligible students and family members enroll in affordable health coverage. And learn more aboutThe Children's Partnership's experience in conducting a statewide campaign that partners health advocates and the education community in order to benefit the children and families they both serve.
When I worked at the US Department of Health and Human Services, I was fortunate to travel coast to coast helping educate Latino families about how to enroll in quality, affordable health coverage through the Affordable Care Act. Mothers and tías, fathers and abuelitas would share their stories, their challenges, and their hopes about what the ACA could do for their families. I often talked about my baby sister and how, through the expansion of Medi-Cal, she was able to enroll in coverage and have one more tool to help make sure she can lead a healthy life. Our shared stories reflected the hope we all have for our loved ones—that they be able to lead healthy lives. And since the passage of the ACA, we have made real progress for the future of the Latino community and, in so doing, the state of California.
 In California, Latino children make up half of all children under the age of 18. The future of California depends on our ability to ensure their health and well-being. A new report,Historic Gains in Health Coverage for Hispanic Children in the Affordable Care Act's First Year, shows that the number of uninsured Latino children dropped dramatically in the first year that the ACA took effect, and California led the way, accounting for more than one-third of the national reduction. Released by the Georgetown Center for Children and Families, the National Council of La Raza, and the California Children's Health Coverage Coalition, the report shows the uninsurance rate for California's Latino children declined from 9.6 percent in 2013 to 6.8 percent in 2014, a rate significantly lower than the national average of 9.7 percent.
Through the collaborative work of community-based organizations, health centers, churches, promotoras, families, and many others, California made important strides in reaching Latino families and enrolling Latino children. Trusted organizations opened their doors and walked families through the enrollment process. Familiar sources of information shared important details like key dates and answered questions about ways to apply. California opened an incredibly successful marketplace in Covered California and expanded Medi-Cal for adults. In doing so, California provided more children the chance to have coverage, for when parents are enrolled in health insurance, their kids are more likely to be covered.
But despite the progress we have made, we know there is still more work to do. In 2014, California was home to 323,000 uninsured Latino children—the second largest number of any state in the country. Children without insurance are less likely to get the preventive care they need to stay healthy and more likely to face chronic conditions like diabetes or asthma. With a health insurance card in hand, families can take their children to the doctor and dentist on a regular basis, not just when there is an emergency.
Later this year, California will see an expansion of Medi-Cal to include an estimated 170,000 undocumented children. Our state continues to demonstrate leadership as we work to provide every child access to quality, affordable health coverage. In my new role at The Children's Partnership, I look forward to working with organizations across the state to help get us to 100 percent insurance rate for our future Latino leaders. When we make sure Latino children are covered and healthy, we ensure the future of California is healthy, too.
More than a decade ago, The Children's Partnership teamed up with small business leaders to connect employees and their families to health coverage. While the portion of uninsured children has reduced since that time, workplaces continue to be an important place to engage families with information about how to get their children enrolled in health coverage. One in three uninsured children in California has a parent working for a small business, and many of them are eligible for no- or low-cost health coverage through Medi-Cal or for financial help through Covered California's individual marketplace. That is why we have rejoined forces with small business leaders in California to make sure families have what they need to connect to care.
Because of certain provisions in the Affordable Care Act (ACA) that take effect this year, this is a critical time when more people, especially those in the small business community, will be paying attention to the legal landscape of how the ACA impacts small businesses and other employers, including the Employer Shared Responsibility Provision and the Small Business Health Options Program (SHOP). While small businesses—those with 49 or fewer full-time employees—are not required to provide health insurance for their workers, Covered California for Small Business can help many employers withfinancial assistance as well as health insurance options. Small businesses with 25 or fewer full-time employees have the opportunity to receive up to a 50 percent tax credit (35 percent for tax-exempt employers). Employers with 10 or fewer full-time employees qualify for the maximum credit. If they do not offer insurance, employers are encouraged to provide information to employees about affordable health coverage opportunities through Covered California and Medi-Cal. Given the important connection they have to eligible families, small business employers need tools and resources to educate their employees about coverage options for the entire
The Children's Partnership worked with Small Business California, Small Business Majority, Health Law Guide for Business, The California Endowment, and Covered California to develop resources for small businesses to help their employees and families connect to coverage. Please share our flyer and paycheck envelope stuffer with small businesses in your community and encourage them to distribute information.
When children have health coverage, it benefits children, parents, and employers alike! Studies show that when children have health insurance, their parents are less stressed, miss fewer days of work, and are more productive.
If you act now, you can help connect families to coverage before Covered California's open enrollment ends on January 31. There are also plenty of opportunities to connect individuals to health coverage year round through Medi-Cal, and eligible individuals can enroll in Covered California anytime if they experience a qualifying life event, such as having a baby, getting married, or moving.
Share this link with small businesses you know in your community: www.childrenspartnership.org/smallbusinessforkidshealth.
Learn more about TCP's strategy.
Download the flyer for small businesses (English and Spanish).
Download the paycheck envelope stuffer for small businesses (English and Spanish).

Download the briefing document, "Connecting California Children to Health Coverage Through Small Business."
I am so excited to join the talented staff and dedicated Board at The Children's Partnership (TCP) to continue fulfilling both my personal and professional mission of ensuring families are healthy and have the freedom to pursue their dreams. Despite the progress we have seen, the quest to ensure every child has the opportunity to lead a healthy, fulfilling life continues. I look forward to building upon the past 22 years of work at TCP to carry this mission forward.
For the past decade, I had the privilege of working as a public servant in our nation's capital to help ensure access to quality, affordable health care for Americans from all walks of life. In various roles at the US Department of Health and Human Services, I was part of a team dedicated to weaving sound public health policy into the fiber of our communities in order to secure a better future for families across the country. And now, I am proud to return to my home state of California and continue this work at the helm of TCP.
When tackling health is the first step to ensuring everyone can reach their full potential, what better place to start than with children.
For more than two decades, TCP has worked to improve the health and well-being of children and families across California and the country with smart solutions, using technological advances, partnering with schools, or identifying the most appropriate policy levers for change. Under the great leadership of Founders Wendy Lazarus and Laurie Lipper, TCP has recognized how California serves as a center for policy innovation with immense potential to make advancements for children. I am thrilled to have the opportunity to continue their great legacy and further the progress made to support all children.
Almost 40 years ago, my parents came to the United States from Mexico with the goal of finding a better life for themselves and their children. California was the land of opportunity. Nearly four decades later, their dreams are being realized through the work of each of their daughters. My return to California comes with the same passion, commitment, and heart that my parents brought—only this time, I have the chance to work with the great staff and Board of TCP, our partners, and supporters like you to fight for the health and well-being of all children across the state and the country.
I am incredibly honored to serve as President of TCP and to be a part of this work with you. I look forward to what we can do together and appreciate your continued support to help all children lead healthy and productive lives.
Sincerely,
Mayra E. Alvarez, MHA
President of The Children's Partnership
The Children's Partnership was founded in 1993 as one century gave way to the next and the nation faced a period of extraordinary and rapid change. We recognized that the nation's children needed a voice at the very forefront of emerging social, economic, and technological trends to ensure that children, especially those who live in underserved communities, would not be left behind. Innovation at Work for America's Children: A Timeline provides a snapshot of 22 years making a difference for children—and previews the work ahead.
Our mission then, as now, is to scout out major emerging trends that can improve the health of children and open new doors of opportunity for them. During this period, the digital technology revolution and the health reform movement offered unforeseen ways to benefit the nation's—and California's—children, and also presented risks that needed to be brought to light. The Children's Partnership has focused on these two program areas: "Improving the Health of America's Children" and "Connecting Kids to Digital Opportunities."
To develop practical but innovative ways to improve kids' lives, we applied strong research and policy development skills along with a commitment to involving local communities and a broad array of partners in finding scalable solutions. This work and the results are described in the timeline.
When we began our work in 1994, 1.8 million California children were without health coverage, due in part to restrictive eligibility that excluded some children and a host of other issues that prevented others from enrolling into coverage. Today, 100 percent of California's children are eligible for comprehensive health coverage thanks to California's historic policy decision to provide state-funded Medi-Cal to income-eligible undocumented children. The Children's Partnership helped lead that fight, pushing to expand coverage to all, improve the quality of care children receive in public and private health coverage programs, and find innovative solutions to make enrollment processes smooth and family friendly.
And, The Children's Partnership was among the first to recognize that digital technology would transform the way that kids learn, play, communicate, and prepare for their future. With a seminal report in 1994, on America's children and the information superhighway, to the first comprehensive guide for parents of children online, to a model community computer initiative and guide for creating online content for low-income and underserved communities, The Children's Partnership helped shape solutions and guide families and communities as the world went digital.
The world in which today's children are growing up continues to change at a rapid pace, and there is even more need for an advocate for children at the forefront of health and digital technology. In fact, history demonstrates that without strong advocacy, the benefits from new technologies and advances in health and medicine may not reach all of the nation's children—especially those who may not have the resources to secure them on their own.
For more than 22 years, The Children's Partnership has focused on being at the table at the right time, armed with the right information, and with the right players to place the needs of underserved communities on the map of change and to help tangibly improve the lives of and opportunities for children as evidenced in the timeline. Under the leadership of the new president, Mayra Alvarez, The Children's Partnership will continue to break new ground and put innovation to work for America's children—a part of the long American tradition that we believe is vital to build upon because America's children are depending on us to do just that.
We've all had the experience of misplacing an insurance card or losing a child's immunization record. Such documents always seem to go missing right when we need them—say, when a child must enroll in school or when we require medical care.
Hard copies of important documents are easy to lose track of, particularly when life circumstances require a move or change in living arrangements, as is often the case for youth in foster care. These frequent disruptions lead to fragmented health care and disorganized, incomplete, and outdated life records. Safe, online storage of critical personal documents would be especially helpful to older foster youth when they are transitioning out of foster care to more independent living arrangements and assuming responsibility for their own needs.
Equipping these transition age youth with an "electronic backpack" for critical documents could help ensure that they have their own records and personal histories available when they seek employment, housing, and educational opportunities as young adults. Such a tool could also free up time for busy caseworkers who would be able to spend less time chasing down missing documents and records and more time offering meaningful support.
A new issue brief from The Children's Partnership describes how counties in California can integrate this type of tool into existing processes and requirements under AB 12—a law that extends welfare benefits and services to foster youth in California up to the age of 21 if they choose to remain in the program past their 18th birthday. Agencies interested in empowering youth with their own critical life documents can follow the roadmap included in the brief, which identifies optimal opportunities for integrating an electronic record system into the emancipation process.
This innovative and streamlined approach will help ensure that youth entering extended foster care are empowered with the critical life documents and records they need to thrive as independent adults.
Read the new issue brief: Supporting Counties in Transitioning Foster Youth to Independence Under AB 12: How Electronic Record Systems Can Help.
Learn more about why electronic records matter for children and youth in foster care.
We are now in the midst of the third open enrollment period for Covered California, the state's marketplace for affordable health coverage options. And schools and early learning centers across California are once again at the forefront working to inform families about the opportunity to enroll in coverage. Using The Children's Partnership'sALL IN For Health toolkit, schools and early learning sites are making calls, passing out flyers, sending newsletters, sharing social media messages, and, ultimately, connecting families to enrollment assistance.
But after a successful first two years of enrollment, what should schools and other outreach partners be focused on this year? Based on the research, we know there are some top points to emphasize to make sure kids and their families get covered and stay covered:
Financial Help Can Lower Monthly Costs: A recent Covered California survey showed that many uninsured individuals who can benefit most from affordable coverage options still do not understand that they can get financial help to lower monthly costs. Therefore, we need to focus our messages on the premium subsidies available through Covered California and the fact that Medi-Cal is free or very low cost. On the flip side, it is also important to remind families that if they don't get coverage, they might have to pay a fine of $695 per person or 2.5 percent of their income—whichever is greater.
Enrollment Help Is Available: Studies after previous enrollment periods demonstrate that many people seeking health coverage prefer to talk with someone who can help them understand their coverage options. ALL IN can arrange for Certified Enrollment Counselors who speak English, Spanish, and potentially other languages to be available on site—such as at schools or early learning centers to walk families through the enrollment process and ensure they enroll.
Shop Around and Renew Every Year: Each year there are new plans and new prices available. Everyone is encouraged to shop the health coverage marketplace during open enrollment and ensure they have the plan that best meets their family's needs and budget, especially if the family has had any changes in income. For those with coverage through Covered California that are satisfied with their coverage, they will be automatically re-enrolled in their health plan. Medi-Cal will mail renewal packets each year, and families must respond to keep their coverage.
These are just a few messages schools and early learning providers can spread to make this third year of open enrollment as successful as possible. If you have additional ideas on what to focus on or would like to partner with the ALL IN For Health Campaign, please contact us.
Download resources from The ALL IN For Health Fall 2015 Toolkit.  
Covered California open enrollment is November 1, 2015, to January 31, 2016. Medi-Cal enrollment is available all year long. Apply through www.coveredca.com.
As we begin the third Covered California open enrollment period, we now have new data to show how well we have done so far in reducing the number of uninsured children in California. The new report, released jointly by Georgetown University Center for Children and Families and the California Children's Health Coverage Coalition, shows that 176,000 fewer children in California were uninsured in 2014 compared to 2013. That 1.9 percent drop amounts to a statewide uninsurance rate of 5.4 percent compared to 6 percent nationally.
 Many of the improvements in children's coverage rates can be attributed to new coverage opportunities for children through Covered California as well as the Medi-Cal expansion for adults and the continued success of Medi-Cal in meeting the health coverage needs of uninsured children and families. Of note is that the Medi-Cal expansion for parents led to more children enrolling in Medi-Cal coverage, known as the "welcome mat" effect—when parents are eligible for coverage, they are more likely to enroll their eligible children. The increase in coverage is also a result of forward-thinking approaches to simplifying enrollment for eligible individuals. For example, Express Lane Enrollment, a streamlined enrollment process into Medi-Cal for those who are already enrolled in the Supplemental Nutrition Assistance Program (SNAP, formerly the Food Stamp Program), led to hundreds of thousands of adults and children being automatically enrolled in Medi-Cal health coverage because they were enrolled in SNAP.
Committed state leaders are to thank for these great strides in connecting California children and families with the health care opportunities made available by the Affordable Care Act (ACA). At The Children's Partnership, we've also seen education leaders step up and connect students and families to health coverage through our ALL IN For Health Campaign. Through partnerships with education leaders and others, our collective efforts enable us to reach families where they are and connect children to coverage, improving their ability to succeed academically and stay on track developmentally so they can achieve their full potential.
But we still have more to do. California ranks 29th nationally when it comes to kids' coverage, and there are still about 497,000 uninsured children in California, most eligible for Medi-Cal but not enrolled. This Covered California open enrollment period, and throughout the year for Medi-Cal, we can continue to focus on enrolling these remaining uninsured kids.
We also now have an opportunity to do even more for children in the implementation of Health for All Kids—which will provide Medi-Cal coverage to over 170,000 children who did not previously qualify. Beginning as early as May 1, 2016, all income-eligible children, regardless of immigration status, will be eligible for Medi-Cal. It's up to us to ensure we make enrollment for these children as smooth and expedient as possible, and TCP will work with the State to help make that happen.
The Children's Partnership will continue to partner nationally with Georgetown CCF and in California with the Children's Health Coverage Coalition—which also includes California Coverage and Health Initiatives, Children Now, Children's Defense Fund-California, PICO California, and United Ways of California—to promote and enhance the Affordable Care Act for kids.
Read the story in Public News Service. 
Open enrollment in the state's health coverage marketplace, Covered California, is available from November 1, 2015–January 31, 2016. Medi-Cal enrollment is available year round. Apply at coveredca.com.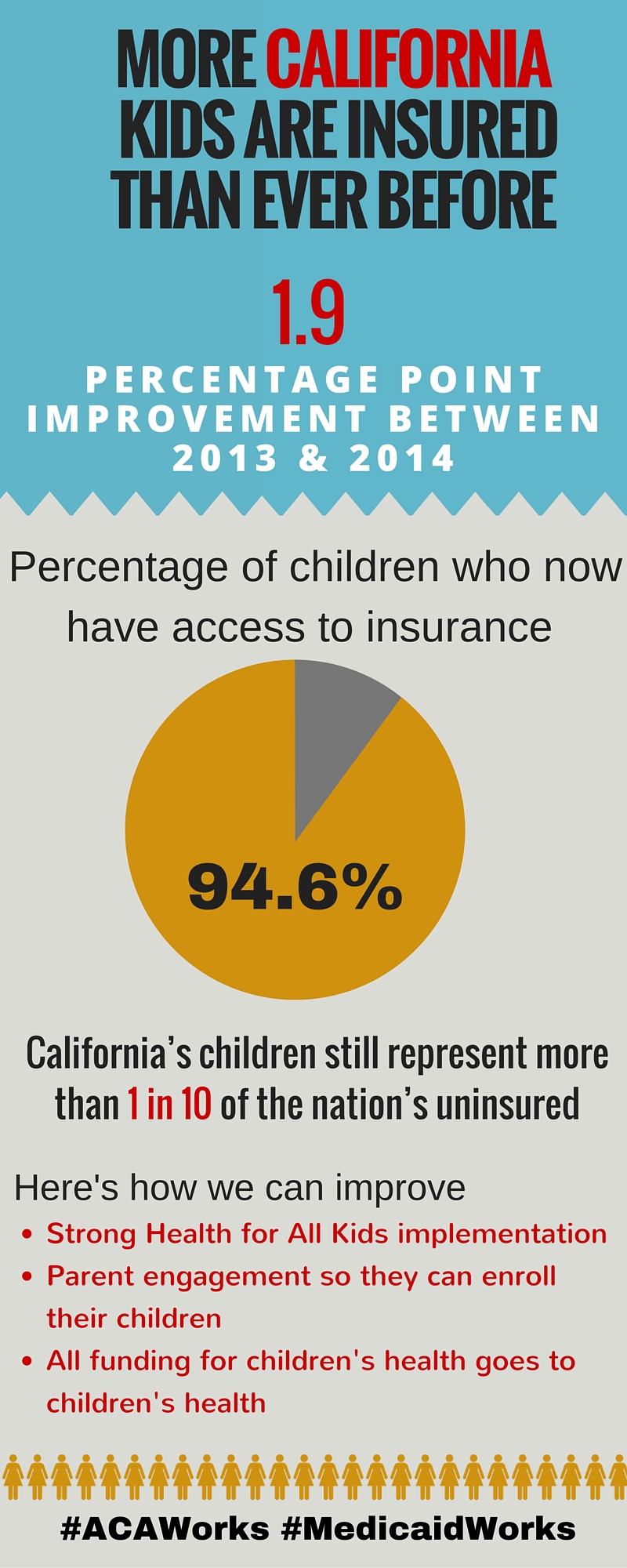 Last week, the DentaQuest Foundation, one of our oral health partners, hosted fellow grantees and stakeholders at the annual Oral Health 2020 National Network Gathering in New Orleans with the theme: "Progress, Possibility, and Power." At the convening, organizations from across the nation discussed how the network can work together towards the bold goals for 2020, including eradicating dental disease in children, and what can be done now.
To guide this discussion, keynote speaker Paul Schmitz, CEO of Leading Inside Out,talked about the values of collective impact and shared some best practices for developing strategies that are inclusive, engaging, and conscious of different organizations' strengths and weaknesses. Paul urged everyone in attendance to look for leadership where no one else is looking and to recognize that social change always comes from the leadership of many.
The Children's Partnership couldn't agree more. From the very start, we have worked with an understanding of the importance of partnerships and networks, and regularly team up with diverse groups across the state to help children thrive. For example, our work with the First 5 Association of California (an association of county-level quasi-public organizations that use public funding and localized programs to meet the health, education, and other needs of young children) led to the Association providing greater input into state policy decisions regarding the future of children's oral health. Additionally, a Los Angeles stakeholder group we convene has been able to leverage the collective impact of a variety of advocate and provider voices to make greater change in California. And now, TCP is playing a leadership role in the western region of the DentaQuest Foundation's Regional Oral Health Connection initiative to support and sustain an aligned movement built on the work of oral health stakeholders at the state level.
The Oral Health 2020 convening is a great example of collective impact as it embodies the sense that it takes a network to create large-scale change and achieve the goals of Oral Health 2020. But the power of our network alone is not enough to successfully reach these targets, especially for kids, and that is where we ask you to step in. You can help us amplify the message to improve oral health for all children. In California, TCP is working to encourage policymakers to fix the state's broken dental care program and develop new workforce models to expand access. Organizations can share our dental flyers to connect children to dental coverage and care. And together, let's focus on our youngestwho stand to benefit the most. To get involved, contact Jenny Kattlove atjkattlove@childrenspartnership.org.
Learn more about Oral Health 2020 and the gathering in New Orleans by searching the hashtag #OH2020inNOLA on Twitter.
PHOTO: TCP's Jacob Vigil, DentaQuest Foundation President Ralph Fuccillo, and partners in the network collaborating at the Oral Health 2020 convening