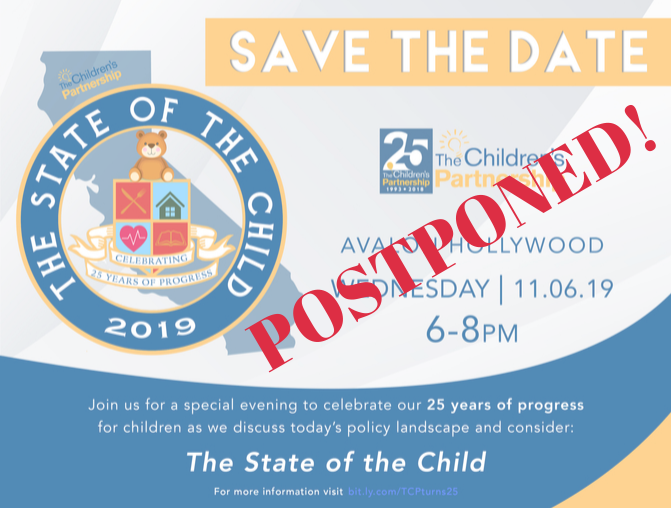 We are mindful of the real world events facing our families and advocates in these challenging times. To that end, we'll be redoubling our efforts to support California's children this season and are POSTPONING TCP's State of the Child event.
We look forward to coming back together in early 2020 for the State of the Child, a BIGGER and BETTER celebration to commemorate our 25 years and galvanize us for the shared work ahead!
More information on The State of The Child to come!
Check back here for a link to purchase your tickets for the event.
To become a sponsor at the Community, Friend, Partner, Advocate, Leader or Champion level, please check out our  Giving Levels! 
or contact rbolotin@childrenspartnership.orgfor more
In 1993, The Children's Partnership was founded as a different kind of children's advocacy organization. In response to major policy shifts that ignored the needs of children, The Children's Partnership was created to set a children's agenda on emerging issues – from technology to healthcare to immigration. This year, we are proud to celebrate our 25th year of being a leading voice for children and your partner in our shared work to support a bright future for every child. During our year-long celebration, we will share reminders of our journey together. We will take a look at past pressing issues and how TCP tackled them to help children thrive over the years.
As we reflect on our work, we will also shine a spotlight on current and future challenges impacting children and how TCP plans to evolve and innovate to better serve California's children and their families. We look forward to spending the next year with you – celebrating the past and taking action for the future. Now, more than ever, we strive to carry out TCP's equity-driven legacy to protect and enhance the health and wellbeing of all children, no matter their background.
In early 2020, the celebration of our shared 25 years of progress toward children's health equity will culminate at The State of the Child event. Join us for a special evening where, together, we can ensure every child in California has the resources and opportunities they need to thrive.
Where we've been, where we are and where we're going…
October 9, 2018 – The Children's Partnership Turns 25! Join us in launching TCP's 25th Anniversary celebration, a year-long campaign in which we'll be commemorating 25 years of TCP's accomplishments in policy and innovation. 
November 6, 2018 – Don't Forget to Vote! Your #VOTE matters! America's children cannot cast their vote, but they are the ones who have the most to gain or lose from the decisions we, the adults in their lives, make on Election Day. Make your voice heard for kids by downloading our Voter Guide to Improve the Lives of California's Children.
November 7, 2018 – A Happy Hour for California's Future On the heels of the 2018 midterm elections, come mix and mingle to help TCP continue its work to make every child matter. Join us at Everson Royce Bar where we'll have light refreshments and drinks available for purchase.
March 8, 2019 – Healthy Mind, Healthy Future: A Symposium to Promote the Mental Health and Well-being of Children in Immigrant Families In collaboration with the California Immigrant Policy Center (CIPC), we hosted a statewide cross-sector symposium to share the findings from our research efforts on the negative health effects of immigration enforcement and anti-immigrant rhetoric, alongside recommendations for what you can do to better support the mental health and well-being of children in immigrant families.
August 16, 2019 – California and TCP Respond to Attacks on Immigrant Families In response to new changes to the public charge rule, California state leaders announced a lawsuit against the federal Administration. Sharing the stage with Governor Gavin Newsom and Attorney General Xavier Becerra, TCP spoke on behalf of California's children to urge action that supports the dignity of all kids. 
Early 2020 – TBD! – The State of The Child Anniversary Event Closing our year-long celebration, TCP will host its first annual signature event with featured guests, an intergenerational dialogue on The State of the Child in today's policy environment, youth entertainment, refreshments and more! Join us at Avalon Hollywood in early 2020. More details to come!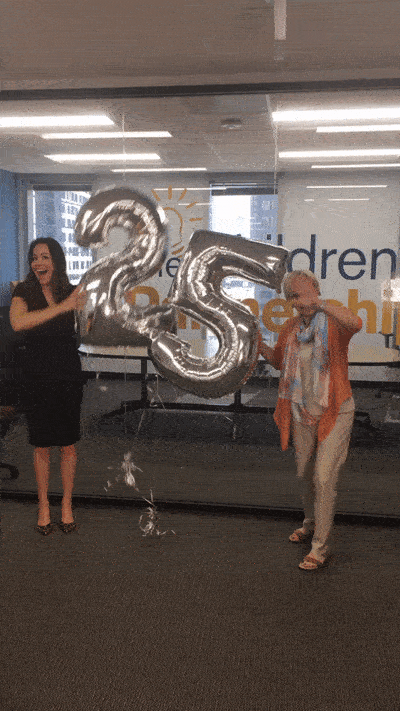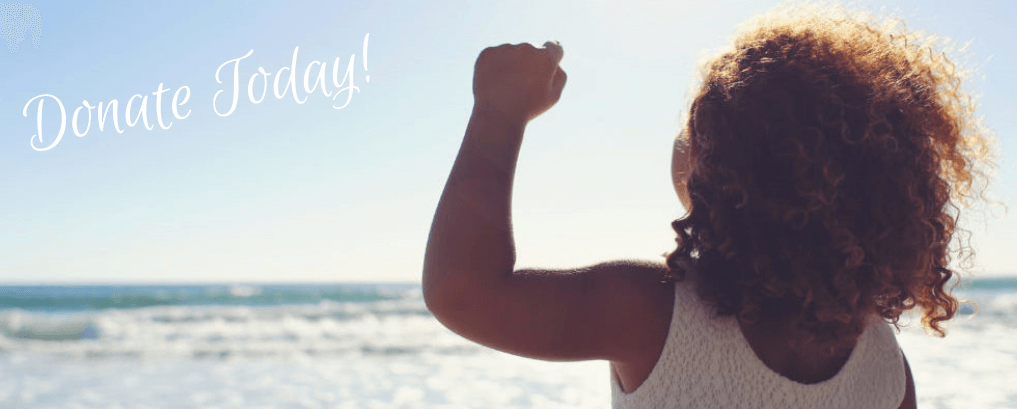 Thank you for joining us to support our 25th Anniversary Campaign!
Your $25 will help us share our ALL IN materials with nearly 100 families.
Your $250 will help us show elected officials in Sacramento the value of implementing telehealth in schools so that children get the care they need when they need it.

Your $2,500 will help us produce a new report on what is known as the "chilling effect," a term used to describe the consequences of federal policies that threaten immigrant communities.

Visit our donate page to learn more about other ways to contribute to these and other efforts. information.